Meet Us

THANK YOU for taking your time to find out more about us!  We look forward to the opportunity to provide you with quality healthcare.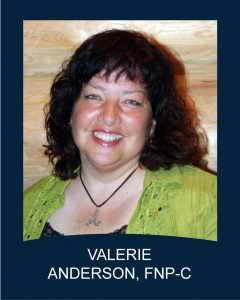 VALERIE ANDERSON, FNP-C
Valerie graduated with her Bachelor's degree in Nursing from Montana State University in 1991. She began working in the Adult and Pediatric Intensive Care Unit as an RN at the Montana Deaconess Medical Center in Great Falls, Montana, where she became nationally certified in critical care nursing. She remained there through many changes, including the merger of the Montana Deaconess Medical Center and Columbus Hospital. After 19 years of critical care nursing, she graduated from Montana State University with a Master's degree in Nursing in 2010, specializing as a Family Nurse Practitioner. She began her NP practice at Benefis Health System with the Cogent Hospitalist Service and worked there for 3 years while opening Frontier Family Practice in 2011. Valerie was invited to join The International Honor Society of Nursing, Sigma Theta Tau, and inducted as a member in 2011. Additionally, Valerie works for Montana State University as an Adjunct Associate Professor of Nursing at the Great Falls extended campus
Valerie is married to Doug Anderson, who is the Postmaster in Choteau. They have 4 children; Christina 28, Brooke 17, Dillon 15, and Hunter 13. Christina is a registered nurse and lives in Rapid City, SD. Doug and Valerie's 3 youngest children attend Fairfield High School and participate in various activities.

CARMEN STAIGMILLER, FNP-C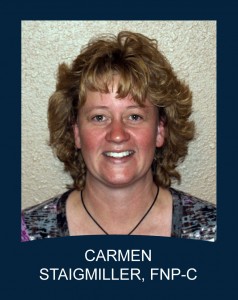 Carmen started her medical career as an Emergency Medical Technician with the volunteer ambulance service in her hometown of Rolla, ND. She received a Bachelor of Science in Nursing degree from the University of Mary, Bismarck ND. Carmen began working as a registered nurse on the Surgical and Orthopedics Unit at Benefis Health System in Great Falls, MT. She transferred to the Adult and Pediatric Intensive Care Unit where she worked for fourteen years. During that time, she also split her work hours between the ICU and the emergency department for a period of five years. Carmen completed her Master's degree in Nursing from Montana State University in 2010 and has been working as a Family Nurse Practitioner since that time.
Carmen and her husband Kenny live in Fairfield with their children. Kenny is employed by Fish Wildlife and Parks as the Fish Health Coordinator for the state of Montana. They have two children Cole 15 and Emma 12. Their family enjoys exploring the Montana outdoors, camping, hunting, hiking, fly fishing and snowmobiling.